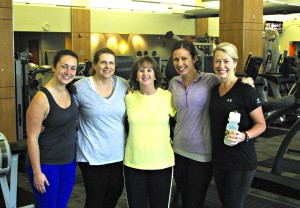 If you have already spoken with Dave or any one of the trainers, or are ready to schedule an appointment, please click here to fill out our Medical & Exercise History Online Questionnaire: Get Started!
Featured Programs at "the Rec"
We primarily do 1-on-1 Personal Training, Small Group Training and a quarterly Lunch Time Fitness Challenge. For clarification of our specialties, we divide our programs up into the following categories:
Total Body Fitness/Special Event Prep – perfect for those just getting started, getting ready for vacation or looking for new ideas to mix things up and see results sooner
Small Group Training – an awesome combination of meeting with friends, learning how to use the entire fitness center, and with focus on strengthening your core, posture and "functional strength"
Athletic Performance Training – our unique blend of durability training and performance coaching, based in advanced, proactive physical therapy practices, and taken to the next level with a complete functional movement and strength assessment that has prepared athletes from 12 to 20 years for the next level.
Physician Referred Exercise Programs (P.R.E.P.'s) – for those with high blood pressure, weight loss goals, arthritis, or other lifestyle related challenges, our team has helped people kick blood pressure med's, improve bone density scores and more for years!
Services & Pricing Structure
1-on-1 Personal Fitness Training

Basic Program Design (3 sessions, includes assessment and exercise plan):- $175
Continued Coaching 1-3x / week: $340 for 6 pack, $495 for 9 pack
Small Group Training – 6 weeks, 3-4 people per group, meeting 1x/week: $160 (5-6 people, $140)
Please Contact Us if you have any questions or concerns. You can call us at 314.963.5624.
Our Coaches
Masters of Science – Sports Medicine
NSCA Certified Strength & Conditioning Specialist
IYCA Certified Youth Fitness Specialist
Director, Exercise Science Undergraduate Curriculum, Webster University
Head Fitness Coach, City of Webster Groves
Specializes in Active Adult and Post-Rehab Return to Fitness; Weekend Warrior Rx and Youth Athletic Development
"Practicing "every day strength and physical maintenance" can help you move, feel, look and play well. I teach people how to do this with two things in mind: first, train with purpose by directly connecting your exercise program to your daily routine, lifestyle and goals. Secondly, build a foundation of health and movement quality first, to reach your goals without derailing due to injury or lack of motivation. Please stop by our office or visit us online any time to discuss your goals and current fitness plan."
Bachelors of Science – Social Work
AFAA Certified Personal Fitness Trainer
Specializes in Small Group Training for Women
Specializes in Active Adult/Seniors Fitness and Women's Health
"I hope to help people realize and reach their full potential through goal setting, self-discovery, hard work, and personal success. I want to help others discover the connection between their effort in the fitness center and their state of health and fitness in every other aspect of their lives.
To see positive change, sometimes all we need is someone to help us make that first step towards action. I would love to help you work towards your fitness goals: a strong core, better flexibility, a faster 5K, or any other fitness goal you may have."
Bachelor of Science, Education – Exercise Science
AFAA Certified Personal Fitness Trainer
Strength & Conditioning Coach Intern, University of Kansas
Specializes in Group fitness, Small Group Training and Youth Fitness Coaching
"Fitness and nutrition are avenues to bring WHOLENESS in all areas of life. A healthy body gives confidence to know more about yourself, what you are capable of and how much stronger you can be. Your health is essential to enjoying life to it's fullest with the people you love.
Training smart, with functional movements will keep your body healthy long-term. Let's build a healthy foundation to jump start or continue toward any goal you may have. I look forward to welcoming you to a fun, safe and challenging session soon."
Our Team & Community
We see everyone we work with as an extended family of health and fitness-minded, wildly positive and supportive friends and clients. Our community includes moms, dads, single professionals, grand parents, business owners, gen x'er's, clergy, baby boomers and everything in between who come together weekly to simply get healthy and strong.
Whether in 1-on-1 or small groups, exercise classes or lunch times during our popular Fitness Challenges, we hope to help each other discover and express our God given strength. We believe that if we become healthy and strong during our workouts together, this personal strength can have amazing spillover effects into the rest of our lives.
The only reason our job exists is for you to get more out of your life when you are not with us.
Integrated Services & Our Team-Driven Philosophy
Along with working to improve and update our knowledge, certifications and licenses regularly, we integrate the following standards into our programming:
our team's knowledge and experience is shared daily so that no matter who you are working with, you have the combined education, talent and experience of everyone on our team inspiring your customized plan
the importance of continuing education is held extremely high, so our coaching is driven by the latest research and results-driven work from the top health and fitness professionals around the country available
everyone on our team is a person of integrity and character; and someone who is absolutely passionate about being a fitness coach and advocate for a healthy and fit lifestyle.