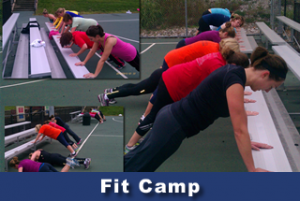 We have 1-on-1, partner and small group workouts for every age and fitness level. Whether working on your balance and bone density or preparing for your wedding, contact us today for a free sit down and chat to discuss with us what program may be best for you and your schedule.
Personal Fitness Training
Assessment and Plan – includes three 50-60 minute sessions together, where you will receive a Functional Movement Screen and Basic Postural Assessment and we will then put together a exercise plan on paper that you may use at a gym, home or desired workout venue. We will email you follow up notes and you will receive a spread sheet detailing your workout depending on what we decide is best, integrating strength training, conditioning and corrective exercise. Clients often rock and roll with that on their own, sign up for continued coaching or join one of our Group Programs for an extra workout and accountability.

Continued Exercise Coaching – this involves meeting weekly (1-2 x per), where we will get a little deeper with the assessment side of things, discuss your nutrition a little more, set some more specific goals and get you going on a new plan as soon as possible while also getting more advanced with your exercises in the weight room (and at home) as you get stronger and we both get to know your body. For optimal results, we'd meet weekly for at least 8 weeks, assuming our schedules mesh appropriately. (We schedule Continued Coaching monthly both for payment and programming purposes.
Weekend Warrior Training
So you are thirty seven and wondering why you don't quite have the same pop in your jump, but still want to dominate the flag football field AND work 9-5 while spending the weekends with your kids? Not a problem, that is, if you are maintaining every bit of your youth with proper functional strength training, daily and weekly restorative flexibility routines, and recovering with the correct food and supplements. That is what Dave Reddy does himself to continue playing basketball and strength training 3-4 x/week at 39 years old – call me today to discuss your goals.
Golf Fitness
After hearing about too many golfers (especially baby boomers) modifying their swing to accommodate their changing bodies, we began to develop a system for assessing, improving and maintaining the appropriate, golf-specific mobility (ankles, hips, and upper back) and strength/stability (core, lower back) to go with clean, total body movement patterns. Hit the ball further and play longer … feel great playing not only into the back nine, but into your 60's, 70's and beyond.
Sports Performance & Team Training
As early as 12 years old can be an ideal for an athlete to learn his or her body in the context of weight training. Especially with so many young athletes specializing in one sport so early on, it is vital to complement this single sport specific conditioning with a multi-directional, functional movement emphasized, approach for strength training. I work with incoming freshmen who simply want to feel more comfortable walking into a high school weight room for the first time, to developing elite high school athletes who plan to take their game to the college or professional level. An open line of communication is prioritized to ensure everyone is on the same page, concerning the athlete's academic success, productive weight training sessions, and recovery strategies including proper sleep patterns and healthy nutrition habits.
Most week days – after school hours
Basketball Skills & Strength – 12-18 years old, off season and pre-season skills, strength and conditioning
Hockey, Soccer, Figure Skating & Other Off-Season Strength Training – 6-12 week programs offered