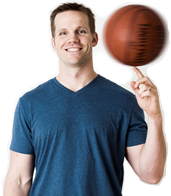 As a fitness coach, I teach "every day strength and physical maintenance" to help active adults, busy moms and young athletes move, feel, play and look better.
As a consultant and director, I coordinate and advise the Exercise Science undergraduate curriculum for Webster University. I also develop faith and fitness programs for Catholic schools and organizations at CatholicFIT.com.
As a blessed dad, lucky husband and reasonably competitive basketball player, I'm just trying to be the most awesome, God willing, I can be.
I enjoy discussing health, fitness and basketball with anyone and everyone, therefore I created this web site hoping others may be interested in the discussion. Please comment or contact me any time with fitness questions, and check out my Workshops and Curriculum Pages for more information.